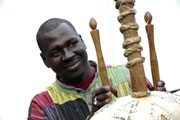 Madou Sidiki Diabaté is considered one of the best kora players in all of West Africa.  He was born in 1982 to a prominent djeli (griot) family of Bamako, Mali, the youngest son of the late Sidiki Diabaté and Mariam Kouyaté.  Madou's older brother is the Grammy-Award winning kora player, Toumani Diabaté; his father, Sidiki Diabaté, known as 'the king of the kora', was originally from Gambia but immigrated to Mali as an artist pioneer, using his talents as a djeli to affect social change in the country in the years between World War II and the Malian Independence of 1961. Taught by his father, Madou began playing kora at the age of three, and is the 71st generation of korists in his family.  He developed as a djeli through the years by accompanying his parents as they travelled and performed.  At the age of six, he played his first concert and, in 1992, aged ten, he performed solo kora on Malian TV, the youngest person to do so.  Since 1997, Madou has taken his brother Toumani's former position as lead kora for some of the best singers and musicians in West Africa, including Kandia Kouyaté, Ami Koita, Baaba Maal, Salif Keita, Sekouba Bambino Diabaté, and many others.  He has numerous recording credits to his name, and has performed over 1,000 concerts and at more than 40 festivals throughout Africa, North America, Europe and Australia.  Madou lives in Bamako with his wife, singer Safiatou Diabaté.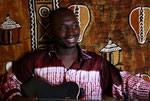 Ahmed Fofana grew up in the griot tradition of poetry and music.  A talented multi-instrumentalist, he has played the flute, balafon (African xylophone), kora and hand drums for numerous Malian greats, including Ali Farka Toure, Toumani Diabaté and Vieux Farka Touré.  Whilst still touring them, Ahmed is also focusing on his own projects, including his new album, Riff Mandingue, recently released on Akwaaba Music.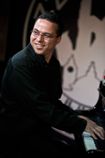 As a composer, arranger, performer and educator, Alex Wilson is one of the UK's foremost latin music producers. He has travelled over fifty countries to perform music in a multitude of projects.
In 1993, after gaining a degree in Electronics and Computer Engineering from the University of York, he embarked on a professional career as a pianist, being snapped up to perform and record with Courtney Pine, Jazz Jamaica, Sandra Cross, Adalberto Santiago and Jocelyn Brown, quickly being signed to the Candid label.
Of his six solo albums, his latest, Salsa con Soul, has been a worldwide hit on the salsa scene, regularly charting DJ lists and a favourite of the salsa dance clubs.  Tracks from his previous album Inglaterracontinue to spin on the dance floor including his salsa hit version of Ain't Nobody.
As a composer and musical director Alex has written a theatre score for NITRO (Britain's leading black theatre company) commissions from the Royal Opera House, the Royal Northern College of Music and the Society for the Promotion of New Music.  He has worked as a record producer for various artists, most recently Gwyn Allen in I Love Louis – A Creole Tribute to Louis Armstrong.
In the commercial world, Alex has had considerable success, most recently penning the theme tune featured on three consecutive TV series of Channel 4's How to Look Good Naked, music placements also on the US drama series 24, the BBC, German television and a solo piano film score for artwork at London's Saatchi Gallery.
After numerous radio interviews worldwide, in 2006 Alex moved to the other side of the mic, as a BBC Radio 2 presenter for a Latin Christmas Special in Dec 06.
Alex is a committed music educator, having delivered workshops and
masterclasses for young people both internationally, for the British Council in
Colombia, Cuba, Lebanon, Jordan, Algeria and Israel, as well as in the UK for music colleges, such as the Royal Northern College of Music, the Royal Academy of Music, the Guildhall School of Music and Drama.  Alex is Special Lecturer in Music at the University of Nottingham.
In May of 2009 Alex presented a new body of work Mali Latino, specially commissioned by Aldeburgh Music (Benjamin Britten's music centre) to mark the opening of their new facilities.  The project is co-led by Malian virtuosi Madou Sidiki Diabaté on the kora and Ahmed Fofana on balafon.  The music was then recorded at Peter Gabriel's studios and mixed at Steve Winwood's facilities and will be released in October 2010 followed by an album launch tour.
(watch the documentary : www.malilatino.com)
2010 is a busy year for Alex with a curation of part of the Harrogate International Festival, he directs a special commission by Canary Wharf The Compass Suite, delivers a big band workshop series at the Royal Northern College of Music and guests with Wynton Marsalis' Lincoln Centre Orchestra at the London Barbican Concert Hall.  Aldeburgh music are also featuring a weekend of Alex's work as part of their proms series.
Alex was born in the UK and was brought up in Britain, briefly in Sierra Leone followed by Austria and Switzerland and has also studied in the USA.